Sword Art Online II Vol.2 Extra Booster Introduction Part 3: The New 《Net》 Deck
Welcome back to the Weiss Schwarz Weekly Column!
Rescheduling of Disgaea Products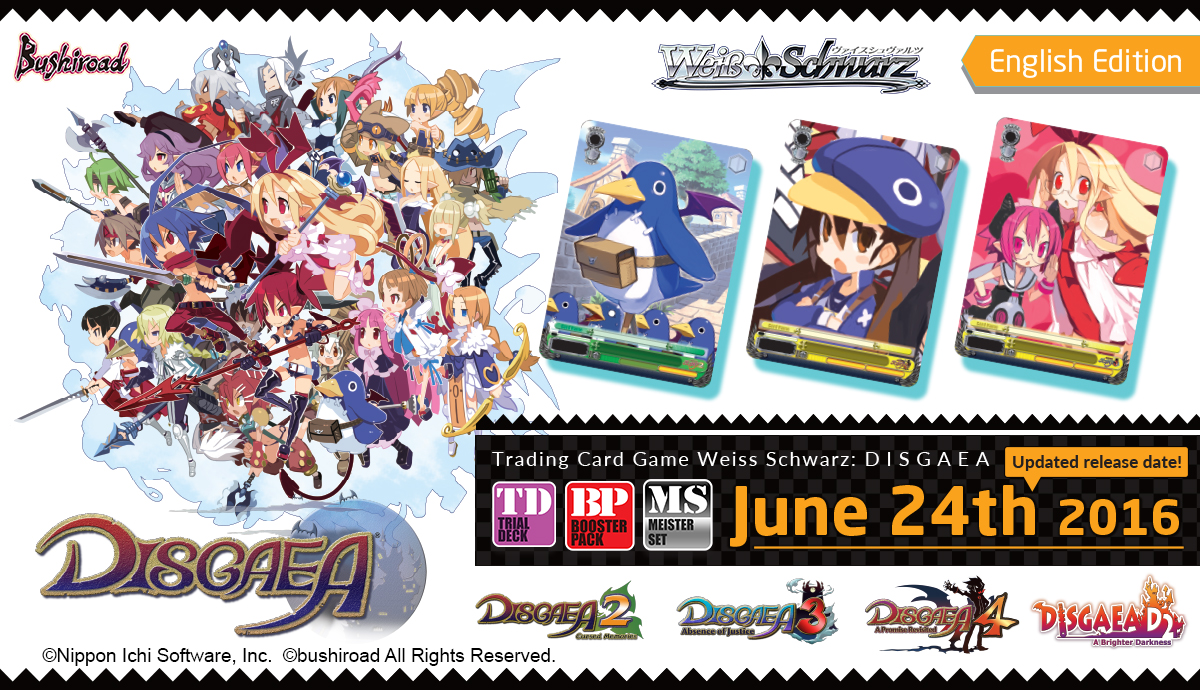 First of all, we would like to announce that the release date of Trial Deck, Booster Pack and Meister Set Disgaea will be rescheduled from June 10, 2016 to June 24, 2016. This is to ensure the quality of products to be delivered to our fellow meisters!
Our apologies for any inconvenience caused.
Bushiroad Spring Fest 2016

May is almost over, and the month of June is upon us! Over the next month and a half, the Bushiroad Spring Fest 2016 Regional Qualifiers will be wrapping up with less than 10 more locations to go before the Continental Finals in July. We've had a great turnout so far for our events, and we would like to thank everyone for your continued support!
Don't miss out on the first major tournament series of the year! Here are the dates of some of the upcoming Spring Fest events:
USA/New York, White Plains
▲May 28, 29
▲Westchester County Center
▲198 Central Avenue, White Plains, NY 10606
*Weiss Schwarz Neo Showdown will be held on 29 May. Registration begins at 9am, and the tournament begins at 10.30am.
USA/Texas, Austin
▲Jun 11, 12
▲Hyatt Regency Austin
▲208 Barton Springs Rd, Austin, Texas 78704
*Weiss Schwarz Neo Showdown will be held on 12 May. Registration begins at 9am, and the tournament begins at 10.30am.
Malaysia, Kuala Lumpur
▲May 28-29
▲Dewan Cempaka, Cempaka Apartment Hotel
▲Level 3A, Tower 2, Menara PGRM, No, 8 Jalan Pudu Ulu, Cheras, 56100 Kuala Lumpur
*Weiss Schwarz Neo Showdown will not be held at this event.
Mark out the dates on your calendars, and we'll see you guys at the events!
Sword Art Online II Vol.2 Extra Booster

Today, we'll also be taking a quick look at an SAO deck list that has been augmented by cards from the upcoming release, Sword Art Online II Vol. II!
Using the tried-and-tested formula of using sustainable level 1 characters for field presence and finishing off the game with effect damage, this deck features several cards from the new booster that are integral to its success.
The deck has a fair amount of search power with 《Sleeping Knights》 Talken & Nori & Jun and 《Zekken》 Yuuki, two new cards introduced in the new booster. 《Zekken》 Yuuki also gains a fair amount of power when she enters the field, which helps her take down one of the opponent's characters on the turn she is played. The cost and conditions for its effect are quite easy to fulfil, too, and is a great way for setting up for level 2. 《Sleeping Knights》 Talken & Nori & Jun 's search effect is also a Brainstorm type, which gives it some added utility in terms of deck control.
It can even help cards like Getting the Holy Sword, Kirito enter the field early! If you reach level 2 and have not yet refreshed your deck, the Brainstorm ability will definitely come in handy. Refreshing the deck also means more targets for its search effect, so you can potentially search for even more Getting the Holy Sword, Kirito, which will also help you dig into your deck for your game-winning level 3 combo – climax cards cannot be searched for with those effects, after all!
The deck also uses choice picks from all the previous boosters to round out its lineup. Cards like Temporary Alliance, Sinon, Angry Sinon, "Machine of Ice" Sinon and of course, Last Shot, Sinon and Phantom Bullet are just some of the cards that make up the backbone and centrepiece of this deck. SAO has quite a lot of options for deckbuilding, but those new cards fit right into this deck and complement it very well!
Sword Art Online II Vol.II will hit the shelves this weekend, so get ready to upgrade your decks! If you're running a similar build focused on Sinon, you can try adding some of these cards in and see how it fares!
That's the end of today's article! Check back next week for more Weiss Schwarz related titbits and updates!
The Writer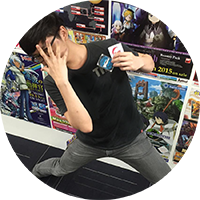 Ronin
The Wandering Columnist
An avid card gamer who dabbles a little in every card game he can get his hands on. Considers weakness a sin. Thinks that the weak ones should just go home.
Weiss Schwarz Weekly Column
Weiss Schwarz Weekly Columnn is a column written by your friendly Bushiroad staff, to provide you insight, tips and advice to become a better Weiss Schwarz Meister. You can look forward to deck tech, card review and event coverage in this column. Weekly updates are available every Wednesday.
Feel free to drop us ideas and suggestions via sg_support@bushiroad.com. Give us your comments too on our Facebook page.