Bushiroad Spring Fest 2016: The Best Deck?
Welcome back to the Weiss Schwarz Weekly Column!
With all the Bushiroad Spring Fest 2016 Neo Showdown Regional Qualifiers completed, let's take a look what are some of the most used titles in the first half of 2016.
The Most Used Decks
All Bushiroad Spring Fest 2016 Neo Showdown Regional Qualifiers have successfully concluded in 15 locations! Here's a breakdown on the most widely used titles during the qualifiers that made it to the Top 3:
■ Attack on Titan – 11
■ Kancolle – 9
■ Hatsune Miku -Project DIVA- ƒ – 5
■ NISEKOI -False Love- – 5
■ Love Live! – 4
■ Fate Series – 3
■ Sword Art Online – 3
■ THE IDOLM@STER CINDERELLA GIRLS – 2
■ The Melancholy of Haruhi Suzumiya – 1
■ LOG HORIZON – 1
■ KILL la KILL – 1
Based on this statistic, it is apparent that Attack on Titan is the dominant title, but with all the exciting releases coming out in the latter half of 2016, it's hard to say if it can hold on to its reign. Let's take a quick look at the titles that topped the charts for Bushiroad Spring Fest 2016 Regional Qualifiers!
Attack on Titan
Attack on Titan has been a popular title among fellow Weiss Schwarz Meisters since its release a year ago. The 《Titan》 deck was one of the most popular decks in the Bushiroad World Championship 2015, and it continues to prove its strength in Bushiroad Spring Fest 2016. There has been a rising trend of 《Corps》 deck featuring the heroes of humanity that fight against the fearsome Titans.
KanColle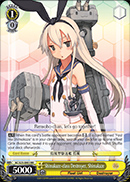 20% of the winning decks of Bushiroad Spring Fest were KanColle decks, and it's not difficult to see why. This title is like a tool box, featuring a huge lineup of 《Fleet Girls》 with very unique abilities – you will always find a card within the Kancolle card pool to deal with a myriad of situations. Pick your team of 《Fleet Girls》 and plan your route towards victory!
Hatsune Miku -Project DIVA- ƒ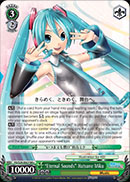 Hatsune Miku being one of the most popular character among anime fans around the world, adds a different beat to Weiss Schwarz. The vocaloids from Hatsune Miku -Project DIVA- ƒ has quite some unique ability that can change the tide of the game. Do give it a try if you have not do so yet!
NISEKOI -False Love-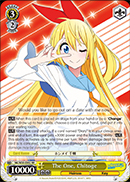 NISEKOI -False Love- has several cards that synergizes with the event card "Promised Pendant", but regardless of whether your deck includes those cards, you'd always want to include 4 copies of "Promised Pendant" to create an advantage for yourself. However, which "Promised Pendant" should you play? Ask yourself the ultimate question: who is the best girl? *smirk*
Bushiroad Spring Fest 2016 Continental Finals

The Continental Finals of Bushiroad Spring Fest 2016 will be happening on 10th July in Singapore for Asia-Oceania and 23rd July for both North America and Europe. Will the release of Disgaea impact the usage statistics in any way? Stay tuned to find out!
The Writer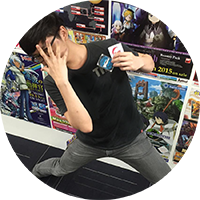 Ronin
The Wandering Columnist
An avid card gamer who dabbles a little in every card game he can get his hands on. Considers weakness a sin. Thinks that the weak ones should just go home.
Weiss Schwarz Weekly Column
Weiss Schwarz Weekly Columnn is a column written by your friendly Bushiroad staff, to provide you insight, tips and advice to become a better Weiss Schwarz Meister. You can look forward to deck tech, card review and event coverage in this column. Weekly updates are available every Wednesday.
Feel free to drop us ideas and suggestions via sg_support@bushiroad.com. Give us your comments too on our Facebook page.