Valentine's Day Shout Out – Winner Annoucement
Happy Valentine's Day to all Weiss Schwarz Meisters!!(⋈◍>◡<◍)。✧♡
Ms. G, Valentine's Day was last week! Don't you think your wishes came a little too late?
It is never too late for good wishes!
By the way, do you know there's a Valentine's Day Shout Out on Weiss Schwarz Official Facebook Page last week?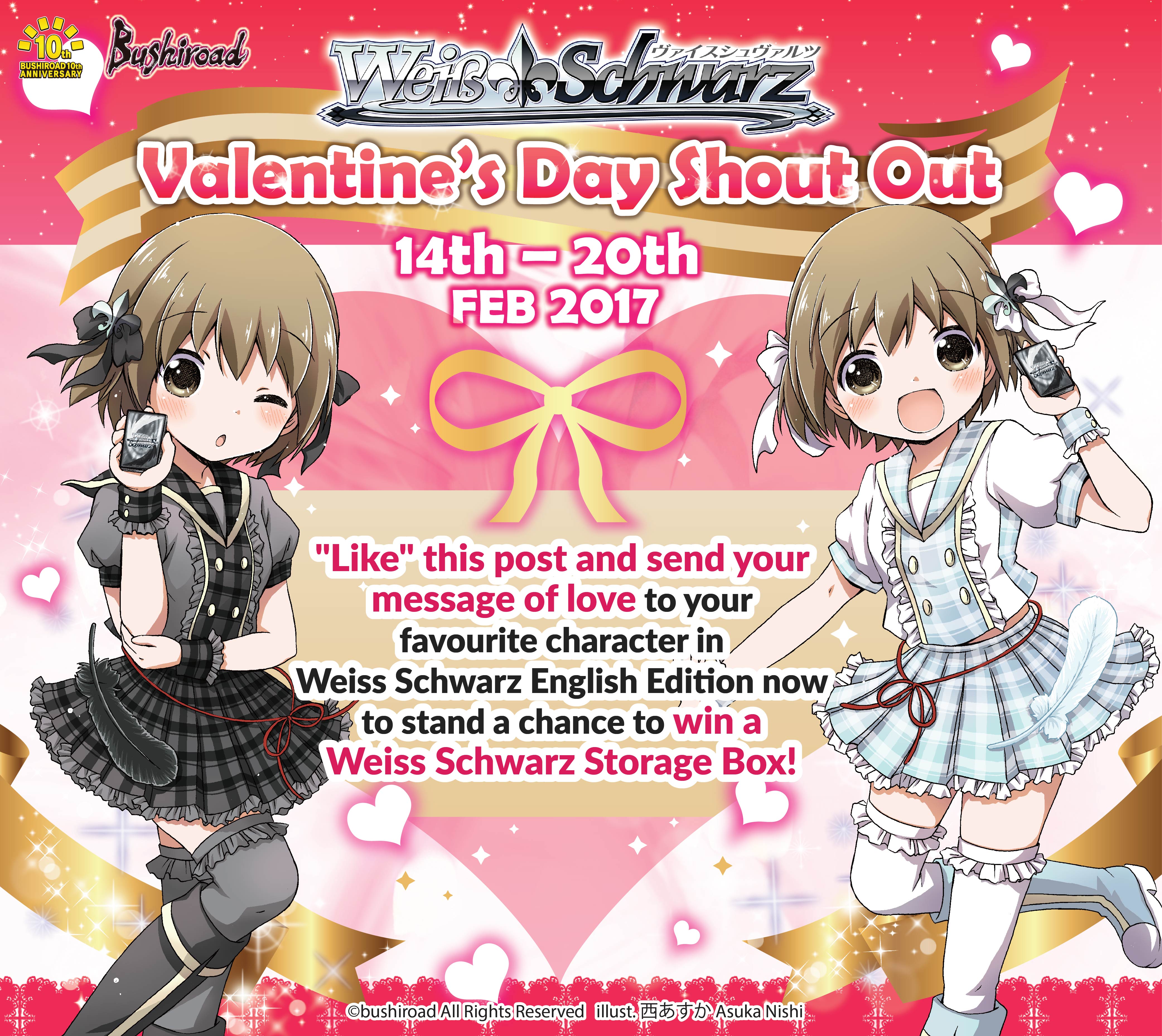 Of course! And I know 5 lucky winners will get a Shiyoko Storage Box!!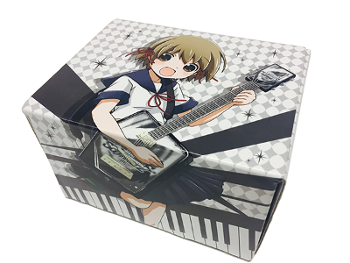 I wonder who are the lucky ones?
Oh! Actually, I have the list of the winners with me!
Let's take a look at their love messages written to their favorite characters right now!!୧꒰*´꒳`*꒱૭✧
To: Ryuko Matoi
(Kill la Kill)
To my beloved Ryuko Matoi, your strong will and passion will always be embers forever burning in my heart. Your caring and protective ways are what drive me to strive for more each day. You taught me to fight on, you taught me to push past the pain and sorrow, you taught me to live and stop dwelling in the past. You taught me not to lose my way. Thank you Ryuko. I will never forget you.
-Happy Valentine's Day
From: Jamel Grinage

To: Yui
(Angel Beats)
To my dearest Yui
Thank you for supporting me in every match with your unwavering smile, you always try your absolute best in every situation and always do you best to help me achieve a better outcome! Your Music will always inspire and support your comrades on the battlefield who stand beside you against any opponent! From the bottom of my heart, I will always love you for the sincere effort you put into everything you do, and I will always guide you on your path to victory and success!
From: Randy Senbozakura Chamberlain

To: Girls from Kancolle
I am a man of the sea.
A worthy admiral, I shall be.
For we are a fleet, I cannot choose one.
I treasure my girls, each and everyone,
Musashi for her burns,
Akagi for those clinched turns,
Akashi for her search,
Hatsukaze for her anti-salvage, which hurts,
Hibiki for her anti-heal,
Shimakaze for her strange appeal.
I wish I have several hearth that I may give.
My heart is just on, but I believe,
My words be heartfelt.
I wish my entire fleet, a Happy Hearts Day.
From: a GYB Admiral (Joris Mikko)

To: Haruhi Suzumiya
(The Melancholy of Haruhi Suzumiya)
I may not be an alien, an esper and a time traveler, but will you take me away from my everyday life and make it a Valentine's Endless Eight, Haruhi Suzumiya?
From: Ian Brodo

To: Erza
(FAIRY TAIL ver.E)
That morning's dawn was painted a beautiful scarlet, the likes of which I had never seen before. Like the door of Erza's hair, it was warm and passionate…If she could only lift her face a beautiful sky would be spread out before her.
From: Calro Gwappings Haradji

Congratulations to all winners! The messages from them are so sweet!!
And full of creativity too!
Winners will be contacted through Facebook Message, so please check your mailbox!!
Once again, thank you everyone for participating in our campaign!!♡
That's it for today! See you in our next article!