Shop Tournaments
June Shop Tournaments
Official PR card support will be English edition Love Live! PR card



【LL/WE19-PE02 PR Both in Swimsuits, Honoka & Umi】



(PR card for June 2015 period only)

Tournament Listings (Jun 1 – Jun 28)
May Shop Tournaments
Official PR card support will be English edition Kancolle PR card



【KC/S25-PE08 PR 「8th Kagero-class Destroyer, Yukikaze」】



(PR card for May 2015 period only)

Tournament Listings (May 4 – May 31)
April Shop Tournaments
Official PR card support will be English edition Sword Art Online II PR card



【SAO/SE23-PE02 PR 「Kirito taking on 《Death Gun》」】



(PR card for April 2015 period only)

Tournament Listings (Mar 30 – May 3)
March Shop Tournaments
Official PR card support will be English edition Hatsune Miku: Project DIVA F 2nd PR card



【PD/S29-PE05 PR 「"Cantarella" Miku & KAITO」】



(PR card for March 2015 period only)

Tournament Listings (Mar 2 – Mar 29)
If you're interested in the Organized Play program and are located in the North America, please contact Bushiroad USA Inc at ws_usasupport@bushiroad-gp.com.

If you're interested in the Organized Play program and are located outside North America, please contact your local distributor(s) for more information.
Events
[North America] Weiss Schwarz Demo Deck Distribution Event
Weiss Schwarz Academy -Shiyoko's Spring Class!- (Limited to North America region only)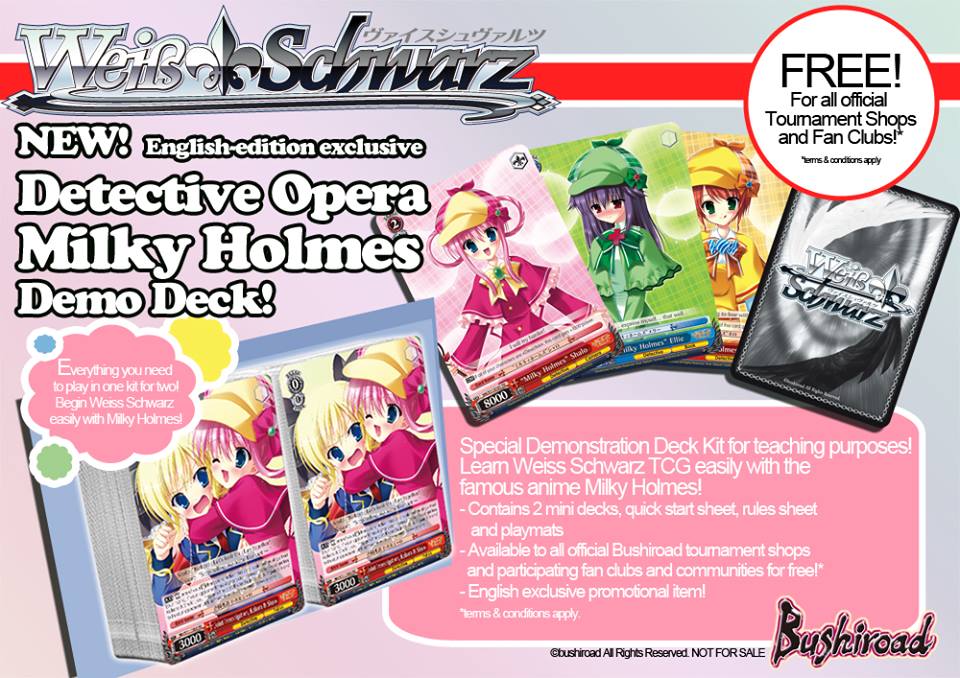 ************************************************************
【Important Announcement】
We appreciate your continued support for Bushiroad. 
We regret to inform you that due to the heavy traffic at the port, our shipments for the Weiss Schwarz Milky Holmes demo decks are being delayed which came to conclude that we will need to reschedule the event, Weiss Schwarz Academy -Shiyoko's Spring Class!- .
 We are sincerely sorry for the inconveniences this may cause to all the shops and maestros whose been looking forward for this event.
 To all the shops and communities applied, we will notify you via email in regards to rescheduling soon.
 Again, we deeply apologize for the news.
Please stand by for further updates from us.
 Thank you!
************************************************************
Email: usa_help1@bushiroad-gp.com
Phone: +1 (909)869-9199 10:00a.m. ~ 6:00p.m. (PST)
* The above event is available in USA and Canada regions ONLY. in Europe and Asia-Oceania regions, Weiss Schwarz Demo Decks and workshop support are also available. Please drop us an email at sg_tour2@bushiroad-gp.com for more information on how we can support your store, community and clubs.
[Spain] Semana Lúdica San Silicio – Weiss Schwarz Demonstration
Join us and learn Weiss Schwarz in la semana de San Silicio! Demonstrations of Cardfight!! Vanguard and Future Card Buddyfight are also available!
The demonstrations of Bushiroad Games are conducted by Akiba Store from Madrid, Spain.
Event Information
[France/Belgium/Switzerland] Weiss Schwarz Meister Project Tournament
If you are in Central Europe, do not miss out the rare chance to participate in the Weiss Schwarz Meister Project Tournaments! The tournaments are held in 7 cities in France, Belgium and Switzerland, and will have the Final in Paris, France!
Check out the fan Facebook Page for more details!
Deck Regulations:
Neo-Standard
Mixed languages (decks must be one language only)
Swiss Rounds
Tournament Listing
Lyon, France
Sat, 21 Mar | 12:00nn
Orléans, France
Sat, 4 Apr | 11:00am
Grenoble, France
Sun, 19 Apr | 10:00am
Bruxelles, Belgium
Sat, 25 Apr | 13:00pm
Toulouse, France
Sat, 25 Apr | 16:00pm
Genève, Switzerland
Sat, 9 May | 12:00nn
Paris, France
Sat, 16 May | 11:00am
[Final] EPITAnime, Paris
Sat, 30 May
* Please stay tuned for more updates!
Organized by EPITA, Games from Japan and Ynaris.
[Portugal] Weiss Schwarz Workshop
Team Tears, a local Fan club in Portugal, has organized a series of Weiss Schwarz Demonstration Workshops around Lisbon with the newly released Milky Holmes Demo Decks! Do not miss out the chance to experience Weiss Schwarz if you are currently in Portugal!
Kult Games
Rua Pinheiro Chagas, 78 C, 1050-180 Lisboa
+351 213 555 499
22 Mar | Sunday
Gárgula
Rua Doutor Egas Moniz, 21-A, 2675-344 Odivelas
+351 966 040 630
29 Mar | Sunday (updated)
Armageddon – Lisboa
Rua Conselheiro Lopo Vaz, Lote C, Loja C, 1800-142 Lisboa
+351 961 059 636
18 Apr | Saturday
Find more information at Team Tears's Facebook page!
Organized by Team Tears, a local Fan club in Portugal.
Bushiroad Spring Fest 2015 – Weiss Schwarz Neo-Showdown
[USA] GAMA Trade Show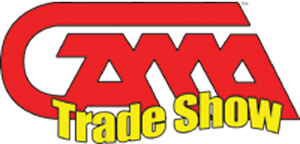 Please join us in Las Vegas for the upcoming GAMA Trade Show! We are located at booth #108 and will be displaying our exhilarating new featured products from the popular hit series Weiss Schwarz, Cardfight!! Vanguard, and Future Card Buddyfight! In addition, our dedicated staff will be answering any sales or shop support questions you may have for us. If you would like to meet with us, please schedule with our sales team leader, Kazuma Takenaka, at kazuma_usa@bushiroad-gp.com. See you there!
Event Information
Date
March 16-20, 2015
Booth
#108
Location
Bally's Las Vegas
3645 South Las Vegas Boulevard, Las Vegas, NV 89109
Find more information here: http://www.gamatradeshow.com/
[Greece] Comicdom-con Athens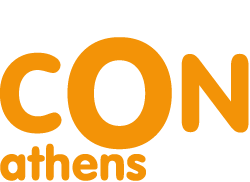 We are going to Comicdom-con Athens 2015! Join us at this wonderful event to find out more about Cardfight!! Vanguard, Weiss Schwarz and Future Card Buddyfight! Don't worry if you do not know how to play these games, as our friendly staffs will be there to assist and guide you in becoming a cardfighter!
See you there! Θα σας δούμε εκεί!
Event Information
| | |
| --- | --- |
| Date | April 24-26 |
| Location | April 4/5/6, Massialias 22, Athens, Greece |
Find more information here: http://www.comicdom-con.gr//