Bushiroad World Championship 2016

Shop Tournaments
September Shop Tournaments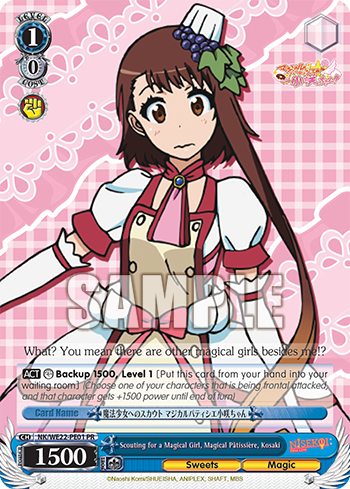 Official PR card support will be English edition NISEKOI: -False Love-
【 NK/WE22-PE01 PR 「Scouting for a Magical Girl, Magical Pâtissière, Kosaki」】
(PR card for September 2016 period only)
Tournament Listings (September 3 - October 2)
October Shop Tournaments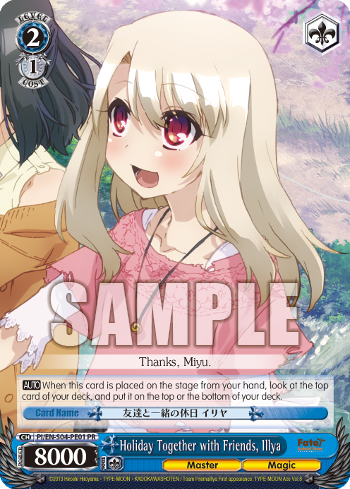 Official PR card support will be English edition Fate/kaleid liner PRISMA ILLYA
【 PI/S04-PE01 PR 「Holiday Together with Friends, Illya」】
(PR card for October 2016 period only)
Tournament Listings (October 3 - October 30)
Notice of BTAS Server Maintenance and URL Change
* This notice is applicable to shops / tournament organisers who are using BTAS for tournament applications.
This notice is to inform you of a scheduled maintenance window for the Bushiroad Tournament Application System (BTAS) on Wednesday October 12, from 11:30am (JST) onwards. The maintenance is expected to last for a few hours. This maintenance will switch the current BTAS system to a new server for better security and performance.
This will result in a change in the URL used to login to the BTAS:
The new URL will be effective immediately after the server maintenance.
You may continue to use the same login ID and password with the new URL. However, due to the change in URL, the login ID and password remembered by your browser may not be displayed. Should you misplace your ID or password, please kindly contact us at sg_support@bushiroad.com.
We apologise for any inconvenience caused, and we seek your kind understanding on this matter.
Promotional Cards for Recent and Upcoming Shop Tournaments
Oct 2016
PI/S04-PE01 PR Holiday Together with Friends, Illya
Fate/kaleid liner PRISMA ILLYA
Sep 2016
NK/WE22-PE01 PR Scouting for a Magical Girl, Magical Pâtissière, Kosaki
NISEKOI: -False Love-
Aug 2016
LL/EN-W02-PE02 PR Honoka Strayed from the Group
Love Live!
Jul 2016
DG/S03-PE01 PR Prinny Squad
Disgaea
Jun 2016
SAO/SE26-PE01 Swimsuit Sinon
Sword Art Online
May 2016
SY/WE09-E28 Literature Club Yuki
The Melancholy of Haruhi Suzumiya
Apr 2016
FS/S36-PE02 "Loggerheads" Archer & Lancer
Fate/stay night [Unlimited Blade Works]
Mar 2016
IMC/W41-PE02 Sunset Glow Present, Anzu
THE IDOLM@STER CINDERELLA GIRLS
Feb 2016
NM/S24-PE01 Friendly Sisters, Tsukihi Araragi & Karen Araragi
NISEMONOGATARI
Jan 2016
SY/W08-E113 Super Editor-in-Chief Haruhi and the Assistants
The Melancholy of Haruhi Suzumiya
Dec 2015
LL/W34-PE01 During Health Examination, Nozomi & Nico & Kotori
Love Live!
Nov 2015
KC/S31-PE01 1st Akiduki-class Destroyer, Akiduki
KanColle
Oct 2015
LH/SE20-PE04 Student of the Mage, Minori
LOG HORIZON
If you're interested in the Organized Play program and are located in the North America, please contact Bushiroad USA Inc at ws_usasupport@bushiroad-gp.com.
If you're interested in the Organized Play program and are located outside North America, please contact your local distributor(s) for more information.
Events
[Germany] Internationale Spieltage SPIEL'16
Date
Oct 13-16
Venue
Messe Essen
Address
Norbertstraße 2, 45131 Essen
City
Essen, Germany
Booth No.
2-D139
Activities
Workshops / Demonstrations:
Weiss Schwarz
Ascendants of Aetheros
Luck & Logic
Cardfight!! Vanguard
Future Card Buddyfight
Organised by Friedhelm Merz Verlag GmbH & Co KG
[USA] Akibafest
Date
Oct 15-16
Venue
Japanese American Cultural & Community Center
Address
244 S San Pedro St, Los Angeles, CA 90012
City
Los Angeles, California, USA
Booth No.
19, 20
Activities
Workshops:
Weiss Schwarz
Luck & Logic
Demonstrations / Playtest:
Love Live! School idol festival
Organised by Aniplex